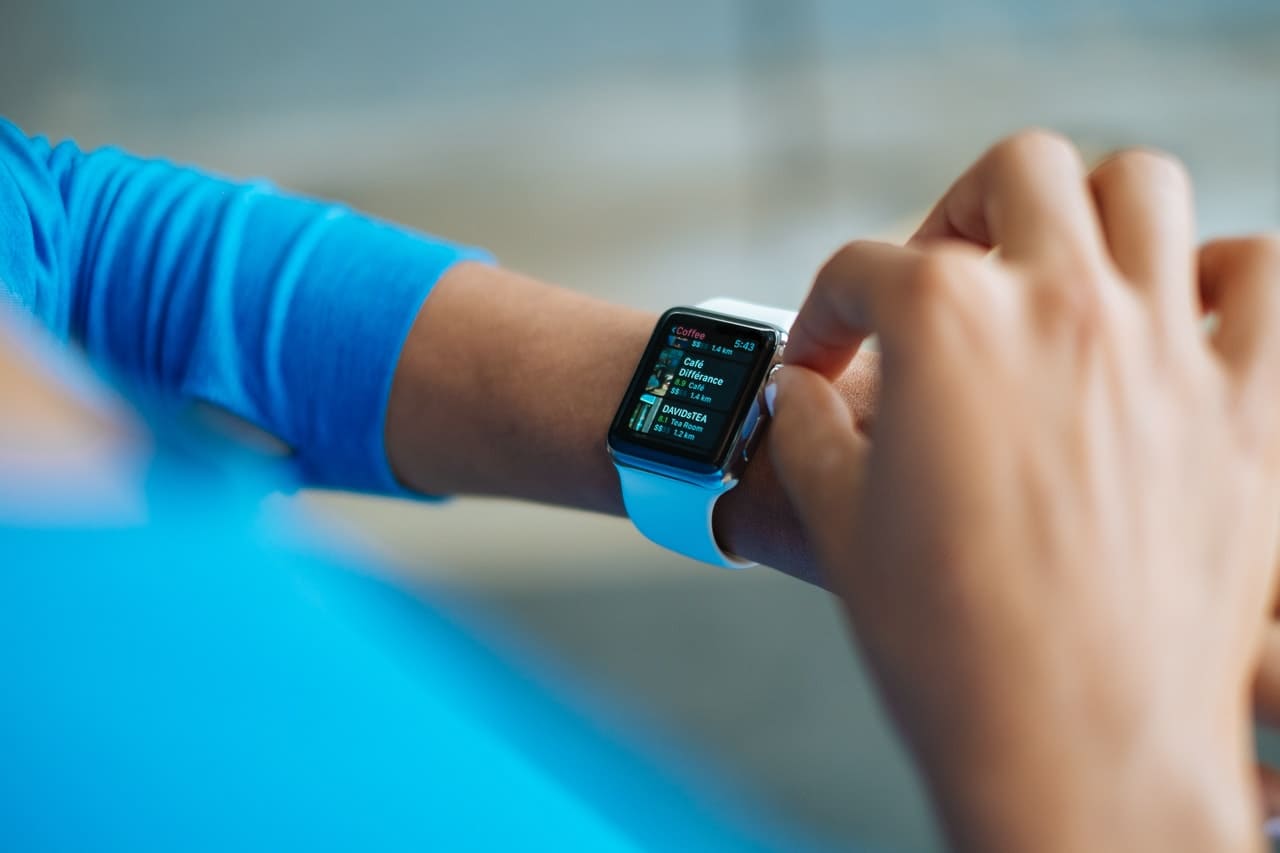 Thanks to globalization and technologically ruled marketplaces that everything is available at our fingertips. Here, I am going to share my honest review of Apple Watch Series 4 VS Garmin Forerunner 645.
We can also see how people maintain their healthy lifestyle now than before. Nevertheless, exercise is something that never gets old no matter how many years pass. Nowadays, many workout products exist in the market, like machines and accessories for exercising a hobby instead of a burden. One of the incredible additions to the fitness industry is the invention of smartwatches for fitness tracking. These watches have made their way in our routine life and our fitness routines as well.
However, are you confused about which Smartwatch you need to pick for fitness tracking? We will make it easier by providing you the comparison among the two best options. The Apple Watch Series 4 VS Garmin Forerunner 645 comparison will guide you through about picking the best Smartwatch.
 So, What's The Problem?
There are many smartwatches available, and they come with multiple benefits and features. Sometimes, it becomes impossible for the runners absorb all the information and make one choice out of hundreds. So, if you are willing to save your time, read this article, which gives you the best review between Apple watch series 4 and Garmin Forerunner 645 and get the necessary information you need before buying the watch.
Question For You!
Do you wear a watch and carry your mobile and music player while walking?
Are you wondering that you can find a watch that has all the features you are looking for? Well, if your answer is yes, then Apple and Garmin are the two best brands, and you will surely find the match for your requirements.
How to choose a fitness tracking watch? 
If you are planning on getting the fitness tracking watch, you need to make sure that the watch has all the necessary features. Below are some of the features that you need to consider.
Price 
You need to set a budget and pick a watch accordingly. The fitness tracking watches can cost you an arm. However, if you are looking for a high-quality watch, make sure you check the price along with all the other features.
GPS 
For the runners, the GPS in the watch matters a lot. It helps with tracking the distance covered. So, you need to check if the watch you pick has a high speed and superior functioning GPS.
Design 
The design of the watch sells itself. Make sure the design you choose is not bulky and boring, instead pick an option that is aesthetic and lightweight.
Waterproof 
While you are working out, your body will sweat, so you need to get a waterproof watch. If your watch is waterproof, the sweat or the water won't harm the watch. Also, if swimming is one of the sports you do, then you must consider this option.
Battery life 
One other feature of the Smartwatch for fitness tracking is battery life. You need to check the battery life, and if it drains out fast, the watch is not for you. Pick a watch that has better battery life. Most of the smart watches nowadays has the ability to last 3 to 7 days in general use condition.
Why do you need a fitness tracking GPS watch? 
You can monitor your daily workouts in a very smart way with the help of these fabulous technology-driven fitness watches? Do you know you can even beat your friend's pace by increasing your workout time?
Exercise for some people is like shedding few pounds only. On the other hand, some fitness conscious individuals religiously exercise and take it as a passion.
The people who are planning to train for a specific race or sports events like running, cycling or swimming, need to have a smartwatch to track their progress. Apple and Garmin have some exciting features that will provide you with what you need. However, Apple is a brand that is known for its high-quality fitness watches. There is a wide range of fitness tracking watches that you find in the collection of Apple watches. Make sure you check the features before you buy one.
How can we help you to choose the best fitness tracking watch? 
If you are searching for the best fitness tracking watch, you are at the right spot. We have put together two of the best fitness tracking watches that are Apple watch series 4 and the Garmin forerunner 645. You can compare the features and pick the one that is perfect for you. The comparison table will help you with the features, and all the details of these watches.
Comparison table

Apple Watch Series 4 VS Garmin Forerunner 645 
Let's start discussing Apple Watch Series 4 VS Garmin Forerunner 645 by individually discussing their features. It will help you to understand the features of these smartwatches in a much easier manner.
The Garmin Forerunner 645
Uses wrist based heart rate to offer performance monitoring Features, including evaluating your current training status

Connected features include smart notifications, automatic uploads to Garmin Connect and the ability for others to track your runs with the Live Track feature

Connected features include smart notifications, automatic uploads to Garmin Connect and the ability for others to track your runs with the Live Track feature
This watch provides a training status option that evaluates your history of exercise. It gives you an indication of whether you have reached your goal or left behind. Anaerobic training option keeps notifying you about the improvement you did so far.
The Garmin Forerunner also has a training load option, that shares your weekly performance as compared to how much you needed to do during a week. This way, it is easier for you to track the goal and your performance as well. On this Garmin Forerunner 645, you can make custom profiles for every exercise such as biking, yoga, pool swim, treadmill, or running.
Below are some of the other features of the Garmin smartwatch that you need to consider.
The shape of the dial 
Wear the watch that looks good on your hand. If you want a watch that is not only aesthetically pleasing but also has robust features, then goes for the Gamin one. It has got the best circular dial to fit on your hand. The Garmin watch is flat and gives you a large font to read all notifications, making the visibility even better.
Material 
Garmin GPS watch is made of light plastic. In case you don't like to wear heavy stuff and want something lighter, then, this watch can perfectly serve you. This is a watch that is not only lightweight but also aesthetic and super sleek.
Easy payment 
Though Garmin is speeding up and adding new features to its watch very often still it is behind Apple series. This year, Garmin added Garmin pay and chase card were introduced, but more work is needed in this area.
Waterproof 
Don't worry if your friend unintentionally throws the watch in water. You don't need to rush and buy another watch, because it is waterproof and saves your money and time. The Garmin Forerunner 645 is waterproof, and it is not damaged if it comes in contact with water.
Music 
Garmin Forerunner 645 has an in-built storage of 3.5 GB only, though it allows you to transfer 500 songs from a personal computer. Still, the touchscreen option does not work well. Bluetooth takes extra time to connect, so you waste some minutes during workout while switching the music.
Social Interaction 
Garmin running watch could not dominate Apple as it will only help you to answer the call. This is where Garmin loses its points. Though your Garmin watch will keep you notified about the text messages and email, still this watch will not allow you to talk through the watch.
GPS 
Garmin running watch has taken over the market like a storm. It is a surprise that it can defeat the Apple market when no one even thought about it. Garmin has added some tremendous fitness-tracking characteristics which are better than Apple.
Battery 
The Garmin has a great battery life, according to the Garmin forerunner 645 reviews. This product offers long battery life up to a week if using the watch and the heart rate monitor. So, you don't have to worry about the battery while jogging. Garmin is a life savior.
You can find the Garmin forerunner 645 price here .
Specifications: 
3.5 GB storage
1.2inch screen
Color display
Weight: 42.2 grams
Dimensions: 42.5 x 42.5 x 13.5 mm
What do we like about Garmin Forerunner 645? 
Lightweight
Amazing design
High-speed GPS
Decent battery life
What do we not like about the Garmin Forerunner 645? 
The battery can drain out fast if used continuously.
Garmin Forerunner 645 Music tips and tricks
You can take snapshots by pressing and holding two options together i.e., Home and Sleep/Wake button.
Get to know Garmin IMEI number by tapping "Apps" then settings; choose the "general" option, select "about" then IMEI number will appear.
To charge the watch a bit faster, tap on airplane mode. It will switch off all battery consuming activities.
For training status, run for at least two weeks, running for two weeks will increase heart rate up to 70% higher than usual, and after a week you will get the desired results.
Apple watch series 4
Over 30% larger display

Electrical and optical heart sensors

Digital Crown with haptic feedback

S4 SiP with faster 64-bit dual-core processor
On the other hand, Apple watch series 4 also gives tough time to its competitors. Apple provides the stats for all workout/running/biking sessions. The best thing about Apple is an exercise companion. Don't worry if your fitness partner went to another city or you are in another town for a meeting. Apple has got your back and to solve the problems. Just tap the 7-day competition option and request your partners to participate. You can quickly check the stats to know who was better and who needs more motivation.
Find out more about the Apple Series 4 smartwatch from the features below.
Shape
Don't worry if you don't like square dials. Just carry your stylish Apple square dial watch with the fantastic design and the perfect shape. The watch does not have boxy ends at all. It serves with the smooth corners to make you feel more comfortable as compared to the previous apple watches.
Body
Among other Apple watch series 4 features, one of them its substantial aluminum body. This may be one of the features that pull it down in competition with Gamin. However, the other exemplary features make-up for the heavy aluminum body.
Easy Payment
Apple watch series has some serious benefits to offer to its clients. The Apple Pay System takes the lead when it comes to the transfer of payment via technology. It is considered as the master in the digital wallet domain.
Waterproof
Complete all your exercises without worrying about sweating or water issues. This incredible watch is waterproof so that it is not damaged and works well even if it falls in the water.
Music
Apple watch has a storage of 16GB, which gives its users a pleasant experience. Bluetooth quality is speedy and allows you to connect via headphones within less time as compared to Garmin. This device will add songs while charging, so don't forget to put your watch on the charger. 
Social interaction
Without a doubt, Apple Watch Series 4 cellular offers more than Garmin when we talk about this particular feature. You can answer the call and talk through it whenever you want to. Apple here steals the show with its peculiar characteristic of social interaction.
GPS
If you are willing to purchase a watch to track the running. Don't waste a moment and place your order for the Apple watch series 4. Apple company has done a lot to improve its GPS feature, so now you can check the pace alerts along with yoga and hiking activities. Still, It is called a smartwatch first and then a fitness tracker.
Battery
Since we are talking about Apple Watch Series 4 VS Garmin Forerunner 645, we should not forget this specific feature that is the battery of the smartwatch. Apple Watch Series 4 battery life stays for almost two full days. However, the battery life of Garmin is a lot more, and that gives a boost to the Garmin forerunner 645.
You can find the price of Apple watch series 4 price here.
Specifications: 
Dimension: 44 x 38 x 10.7 mm
Weight: 48 g (1.69 oz)
Wireless charging
Color display
1.78inch screen
3D touch screen
Why do we like Apple watch series 4? 
Workout Tracking
Proactive Health Monitor
Sleek Design
Large Display
Ability to Send and Receive Calls
Water Resistance
Cellular Connectivity
Why do we not like apple watch series 4? 
Apple Watch 4 tips and tricks
To know your ECG through your watch, simply put your finger for thirty seconds on your watch, and it will show it.
If you're on your meditation mode, then put your watch on silent mode to stay away from all notifications.
Apple Watch gives you three different color flashlights, one is plain white, one is red, and one is flashing white.
Apple has updated the SIRI watch face; you can now find fantastic SIRI suggestions on the watch face.
Conclusion: 
Garmin takes the front seat when we talk about fitness watch and Apple the second position as it is better as a smartwatch. Do you want to know why? The design of Garmin Forerunner 645 is better, and the body is lightweight, unlike the Apple watch series 4. Moreover, we like Garmin for a better battery life compared to the Apple watch series.
This Apple Watch Series 4 VS Garmin Forerunner 645 comparison will clear all your doubts. This particular article can give you a better picture of what you should buy and what you should avoid. Don't waste money on anything which isn't worth buying. All features, pros, and cons are written to clear the confusion.
One watch might fulfill some needs while the other might meet some different requirements. Nevertheless, both brands are competitors with each other. Also, if you are interested in vlogging online, please check out my other post for runners vlogging kit review.