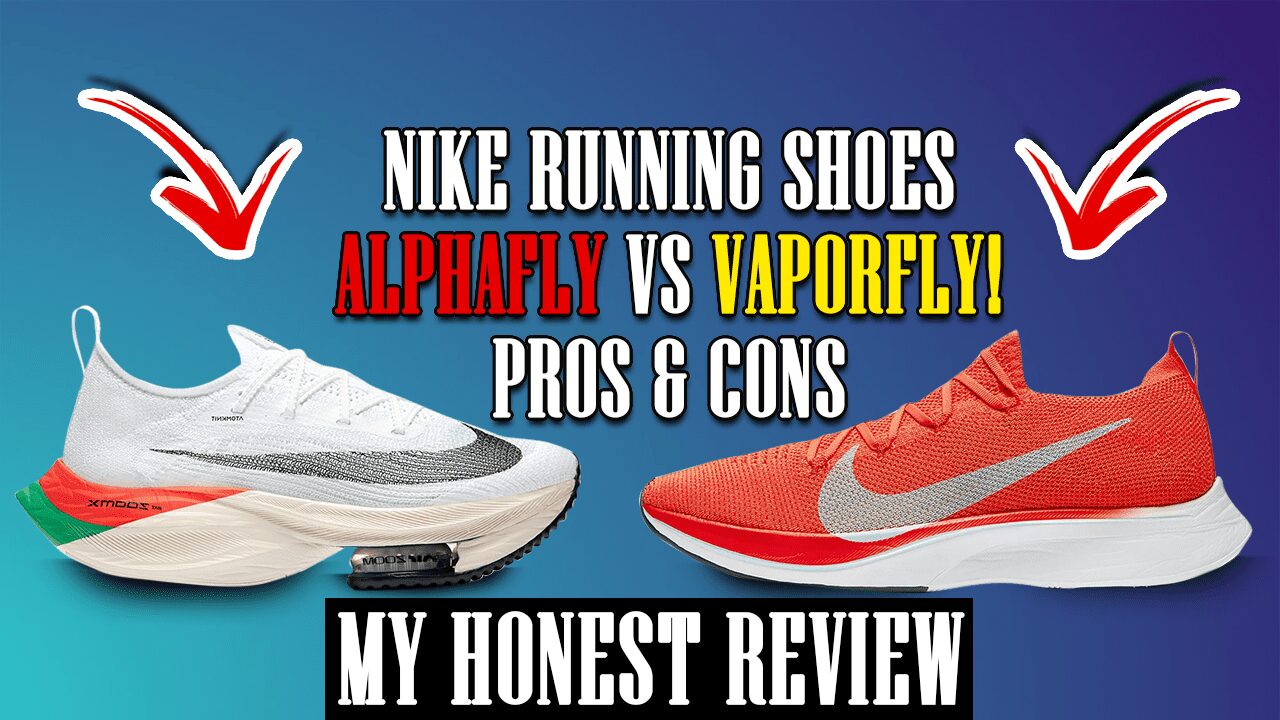 Alphafly Vs. Vaporfly – Nike Marathon Shoes Review!
Nike marathon shoes have always been regarded as some of the best marathon shoes due to their innovative design, performance, and comfort.
But what would be the best Nike marathon shoe? After testing most of Nike's line-up running shoes, we found that Nike Alphafly and Nike Vaporfly Next % are the best marathon shoes.
In this article, we will review them in three specific categories, so you can choose the one that suits to your running needs.
Nike Alphafly Marathon Shoes
According to the brand's representatives: "Nike Alphafly is a shoe that has been engineered to meet the requirements of World Class runners and allows them to pursuit and challenge records".
What shoes did Eliud Kipchoge wear?
And undeniably, they have not let down; the development project for creating these shoes resulted in the Record-Breaking 1:59:40 mark in October 2020 by Eliud Kipchoge in Austria.
Design
Among the design features that make the Nike Alphafly such marathon footwear are the innovative combination of materials involved in their construction.
First, the increased ZoomX foam sole, which, while still lightweight, makes them slightly heavier and bulkier than the Nike Vaporfly Next %, but, in contrast, brings a lot more cushioning.
Their signature Carbon fiber plate – this time joined with two side-by-side Zoom Air Pods under each forefoot – helps with cushioning. But, it also adds a bit of propulsion.
The upper part of the Nike Alphafly is made of a new mesh called Atomknit. It looks slightly similar to the Flyknit used in other Nike shoes but is actually more breathable and less stretchy.
Comfort
Speaking of the Atomknit upper, it feels significantly light, almost as if you could practically see through it, making them perfect for hot-day runs.
Be aware that this feature might be inconvenient on rainy days. But Nike says they are designed for minimal water absorption, so it should not be much of an issue.
On the other hand, the shoe feels somewhat hard to put on because you need to completely undo the laces, then pull it firmly to stick your foot inside.
However, once inside, the Nike Alphafly hugs your feet like a glove, keeping them comfortably secure. The ribbed laces also stay firmly tied all the time.
Performance
But how well does Nike Alphafly run? in one word, EXCELLENT. This is a shoe that feels more and more comfortable as the pace increases.
The extra cushion helps you run long distances without having to worry about impact-related fatigue and complications that may affect your training or racing.
Then comes the bounce resulting from the shape of the shoe plus the combination of ZoomX foam and the Zoom Air Pods, which provide a 90% energy return.
This, in turn, might reflect as an improvement of your race times. Not to say shoe engineering might substitute hard work, but less fatigue translates into better performance.
Nike Vaporfly Next %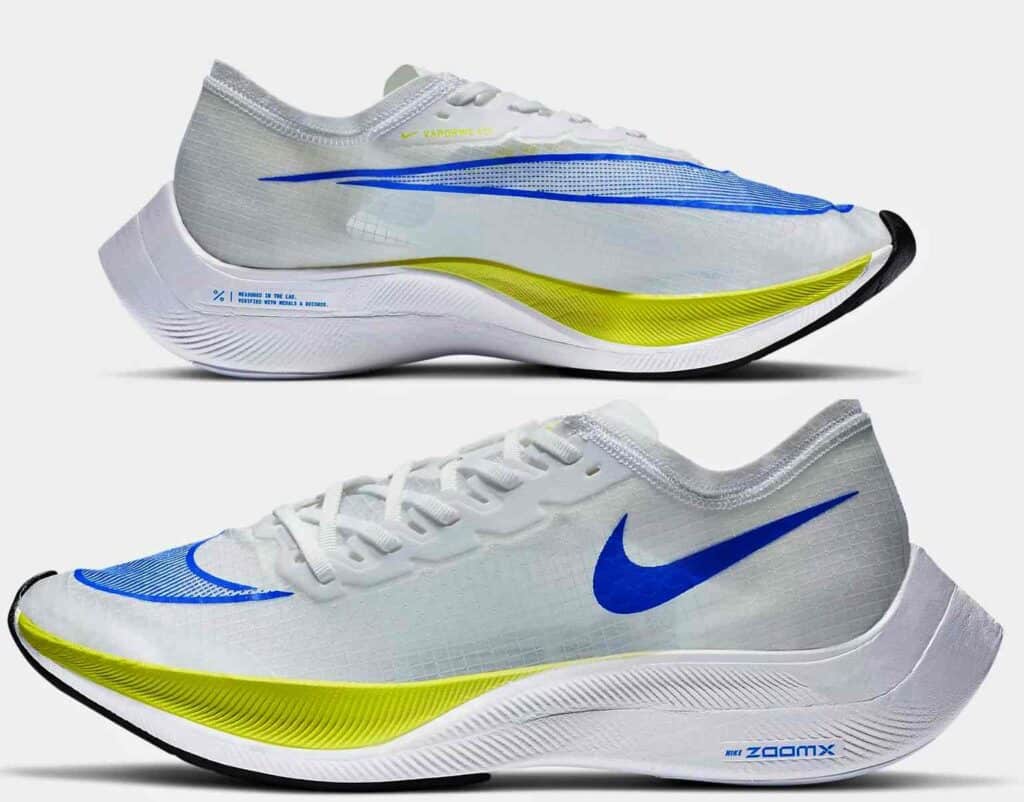 A revolutionary mix of technologies come together in this shoe to create an almost perfect combination of cushioning, lightweight, and energy return in Nike Vaporfly Next %.
But the real showstopper is the carbon fiber plate inside the midsole, which helps propel the foot forward at the start and through the gait.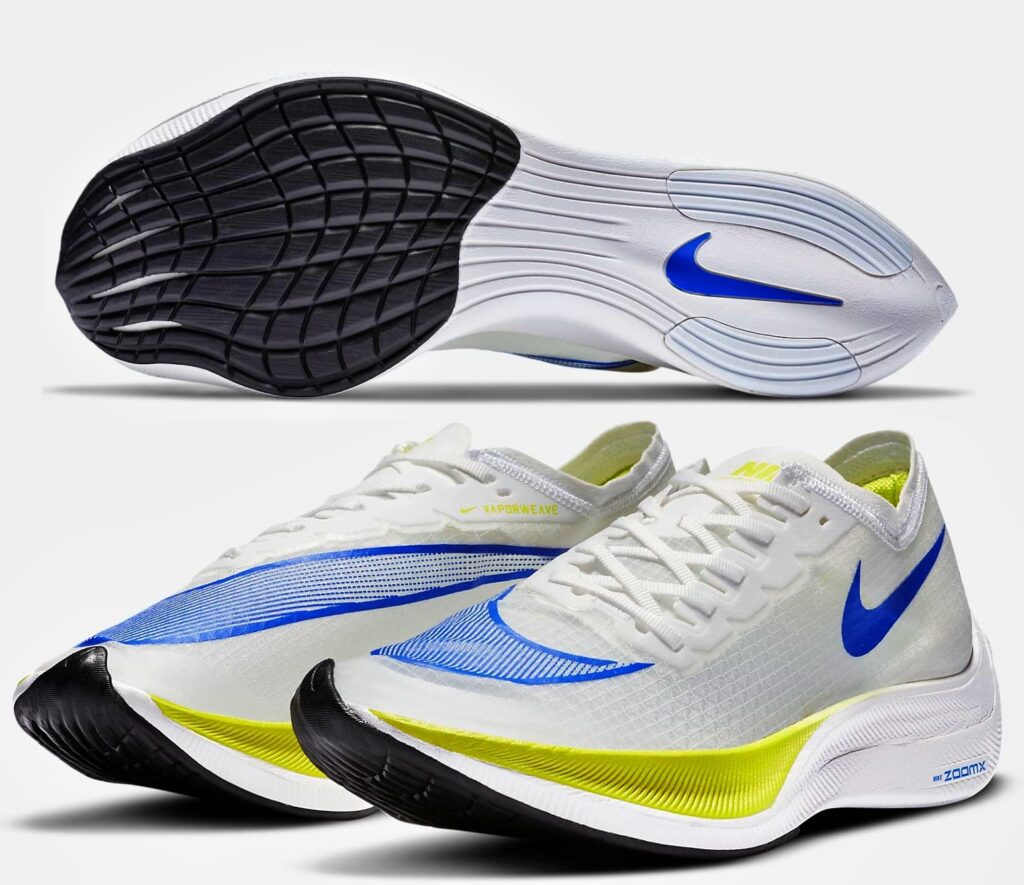 Design
The rubber in the outsole's forefoot sports a waffle-like pattern, which helps improve traction, and two long rubber strips that run towards the heel.
Being wider under the forefoot and with a denser ZoomX sole -15% more foam-, the shape of the shoe also factors in making Nike Vaporfly Next % a more stable ride.
Nike Vaporfly Next % upper features a lightweight, water-resistant, synthetic material called Vaporweave that makes them lighter than their predecessors -200g for a size 10.5-.
As an extra detail, Nike has added two small boxes hidden under the shoe's tongue for you to record the date and location of your personal running milestones.
Comfort
Another design feature that stands out is the laces offsetting to the side. The benefit of this is, taking the pressure off the blood vessels on your upper foot.
Around the collar and inside the shoe, you'll also notice that the padding has been thickened. This provides a more comfortable fit around your Achilles.
The wider toe box in Nike Vaporfly Next % is a much-welcome addition as it allows for more room and comfort.
It also has a small extra cushion inside that comfortably cradles your heel and prevents it from slipping while running.
Performance
The 15% added ZoomX foam allows Nike Vaporfly Next % to provide an 85% energy return, but this is only one of its performance secrets.
This, coupled with its distinctive carbon fiber plate, gives a "snap" effect that propels runners forward on toe-off yet brings a soft, bouncy feel on landing.
Nike Vaporfly Next % wide forefoot also favors overall stability. This, in turn, makes them run smoothly on sharp turns, minimizing the risk of twisting your ankle.
Conclusion
While choosing the best Nike marathon shoes might prove to be a difficult task due to the high quality of their products, here's our verdict regarding the Alphafly vs. Vaporfly.
Nike Vaporfly Next % might very well be the best marathon shoe overall due to their better stability and superb performance in more complex circuits with sharp corners, bends and mixed road.
But for marathon races in straight forward flat road without any twist and turn or sharp bends; where keeping the pace becomes critical, the impact-related fatigue factors in Nike Alphafly are better. This happens due to the extra push provided by the Zoom Air Pods.
Finally, when looking to top your personal records, keep in mind there's no substitute for hard work and conscious training. However, the perfect complement for these virtues is, without a doubt, a pair of trusty Nike marathon shoes… Happy running!