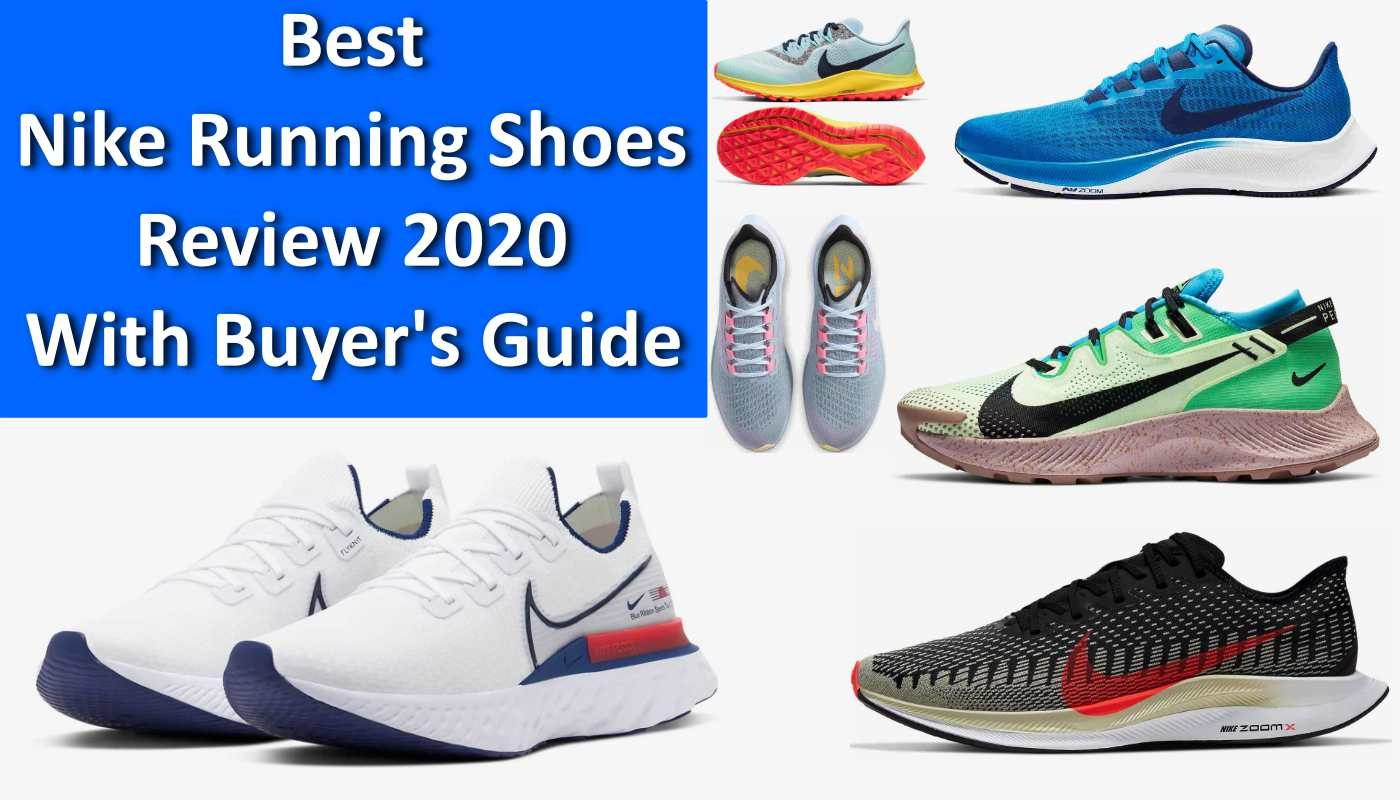 Nike is one of the most prestigious brand in the world for making best running shoes and other sports gear. The year 2020 will be a great year for them. Today, Nike running shoes are famous for both short-distance and long-distance races.
Which Nike Shoes Are Best For Running?
The best Nike running shoes that we are going to present below have been chosen for different reasons. Firstly, the sensations of comfort, agility, and explosiveness that they offer during the race. Secondly, it is for the amazing resistance of its quality materials and thirdly, for its unique and attractive design.
Road running shoes are, to some extent, lighter than the trail running shoes. These running shoes are designed to run on flat tarmac/road or surfaces, which means that reactivity and speed take priority over protection.
Here in this article, we will also guide you on "how to buy the best running shoes?" by using our Buying Guide with few important realisms.
5 Best Nike Running Shoes List:
In no particular order, here are the list of 5 best Nike running shoes: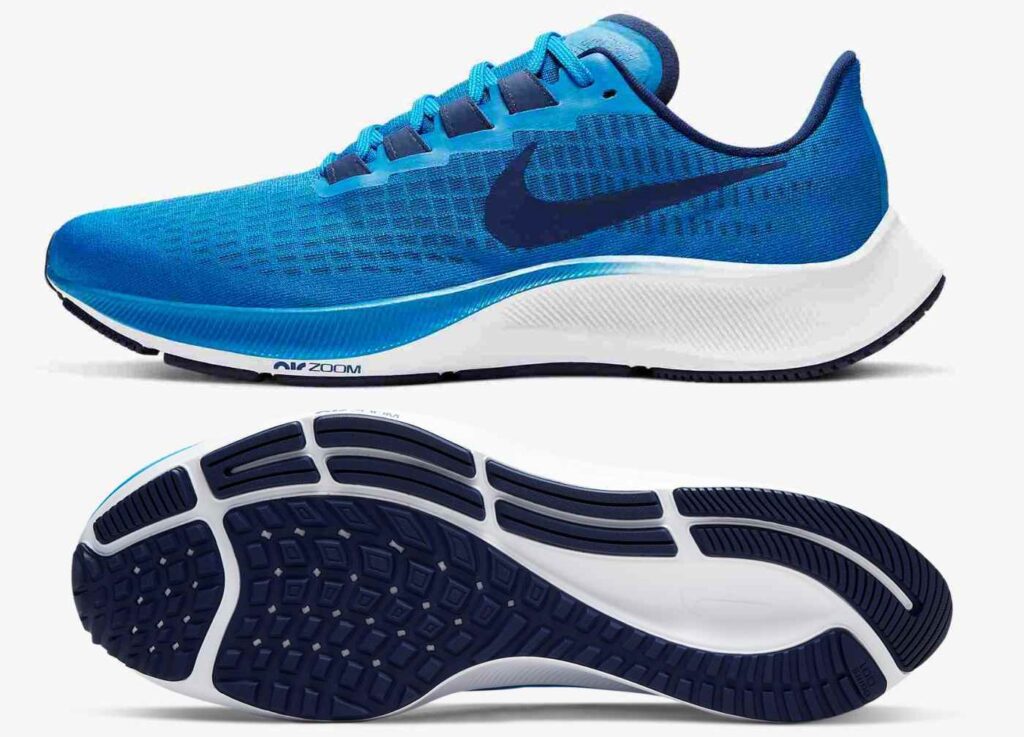 Specification and Product Description:
Weight: Approx 285g. (M size 9)
10 mm Drop
24mm/14mm Stack height
Zoom Air PSI
Midsole foam
Everyday training
Zoom Air & React foam technology
Different Colours
The Zoom Air Cushioning Placement
The Nike Air Zoom Pegasus 37 is the latest running shoes which are perfect for any type of runner. The Zoom Air cushion is no longer present over the entire length of the sole but only at the front of the foot. It is indeed at this level, to make sure that it handles the rebound of each stride.
React Foam Midsole
The midsole are made of React Foam which is much lighter, more reactive and more durable. Similarly, the upper is made of a very translucent, light and breathable mesh. There is also a coloured band highlighting the positioning of the Zoom Air cushion at the front of the foot. As well as, it is very classic which comes with a height of 14 mm on the forefoot and 24 mm at the heel, and provides good cushioning for all people with a heel attack.
Re-design Of Foot Support
The support of the foot at the lacing system is revised with a band that comes to hold the footwall over its entire length. In conclusion; this model comes with the embossed outsole of the brand, which guarantees you an exemplary grip during your running sessions.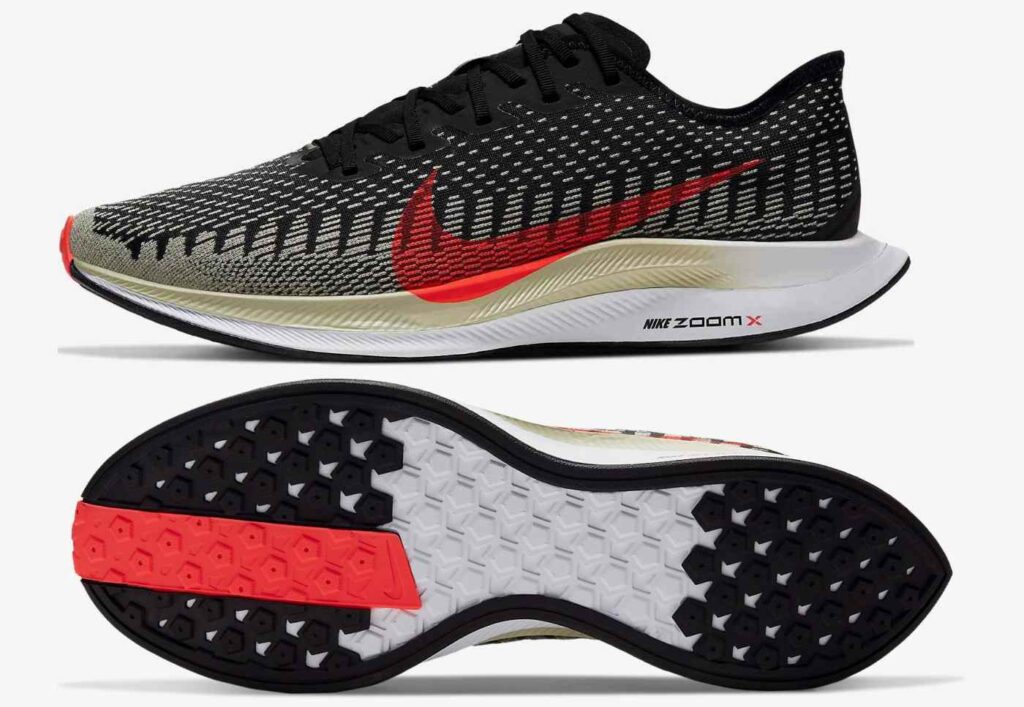 Specification and Product Description:
Weight: Approx 231g (M size 9)
24mm Heel Height
16mm forefoot Height
Neutral Pronation
High arch
Mesh upper & Rubber sole
ZoomX Technology
Different Colours
Impact Tolerance
Nike Zoom Pegasus Turbo 2 running shoes are designed for marathon runners or simple fans of regular jogging. Therefore, its comfort is favoured by impact tolerance, great lightness, and a somewhat innovative flexible design. The release of the Zoom Pegasus Turbo 2 has received a warm welcome from its users who particularly appreciate its efficiency and who salute their manufacturing quality.
Balance Cushioning And Good Grip
The Pegasus range has a balance cushioning, stability and lightness, which makes it an efficient shoe from fractional to long outings. It also has a good grip. Therefore, tt is perfect for fast-paced outings on the paths. So, in competition, the Pegasus Turbo 2 is excellent over 10 km and half marathon. As well as, ZoomX technology promotes energy efficiency. Above all, the sole is armed with React foam responsible for ensuring their balance. They are 18 mm thick at the front for 28 mm under the heel (its drop is therefore approx 10 mm).
Light Weight
The weight is very light (they weigh on average 231g for the male model and 196 g for the female version). Likewise, the blown rubber shows great flexibility while the reactivity is good.
Thin And Airy Mesh
Certainly, the mesh of this shoe is thin and airy, which improves ventilation and keeps a feeling of freshness. In conclusion, we appreciate the quality of this model which wins our preference and which has caused a real craze with runners since its release.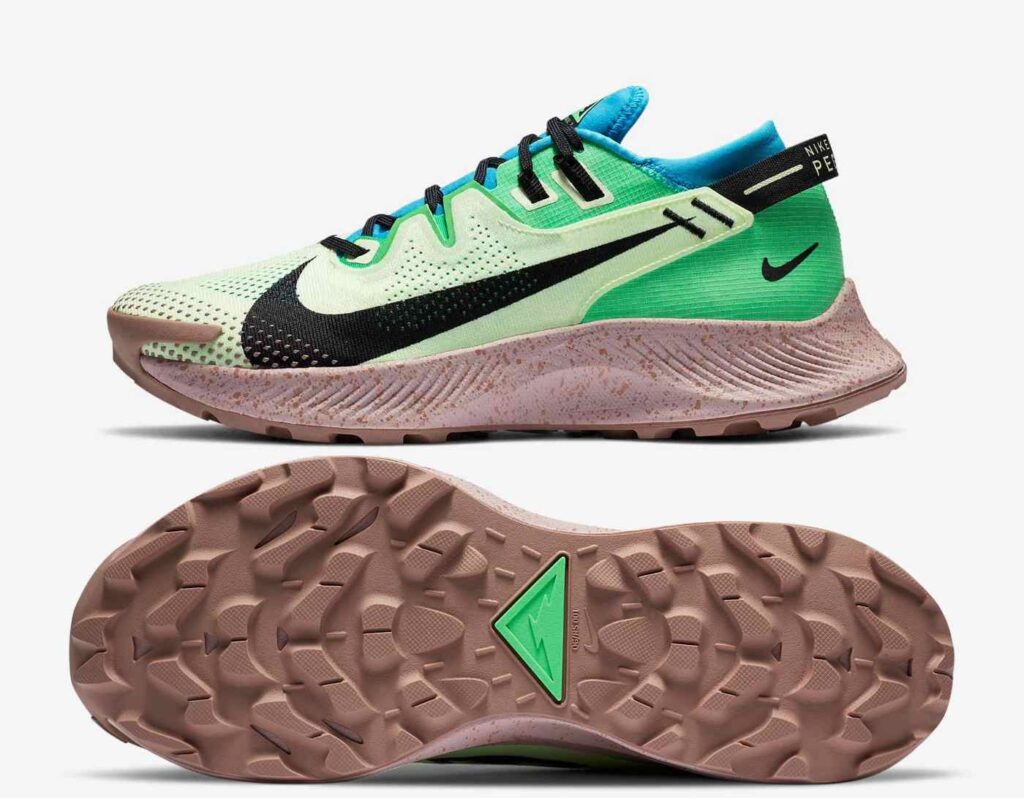 Specification and Product Description:
Weight: Approx 333g (M size 10)
28mm Heel Height
10 mm Heel-Toe Drop
Neutral Pronation
Mesh upper & Rubber sole
Nike React Technology
Different Colours
Versatile Running Shoes
The Nike Pegasus Trail 2 is a versatile running shoe which comes with soft cushioning and strong grip. Also, its rubber outsole has small studs that provide good grip and a flexible stride on trails, providing better traction. At the forefoot, there is more reinforcement than on the last version.
Optimal Stability
This allows you to have more confidence in the ascents and descents. Similarly, the entire length of the shoe is made with Nike React foam which provides optimal stability and responsive cushioning for smooth transitions. Subsequently, this React foam replaces the cushion foam which is used on the first version. This foam change was also made on the new Nike Air Zoom Pegasus 37.
Rapid Dry Design
The tongue of this shoe is perforated to allow water to drain out more quickly. Similarly, it is lined with a resistant mesh on the upper, which keeps your feet dry. In terms of weight, it is heavier, in general, than the entire Nike trail range which currently existed. The midsoles are dressed in a grey speckled with React foam. It is the ideal shoe for your winter runs since it is a messy little model.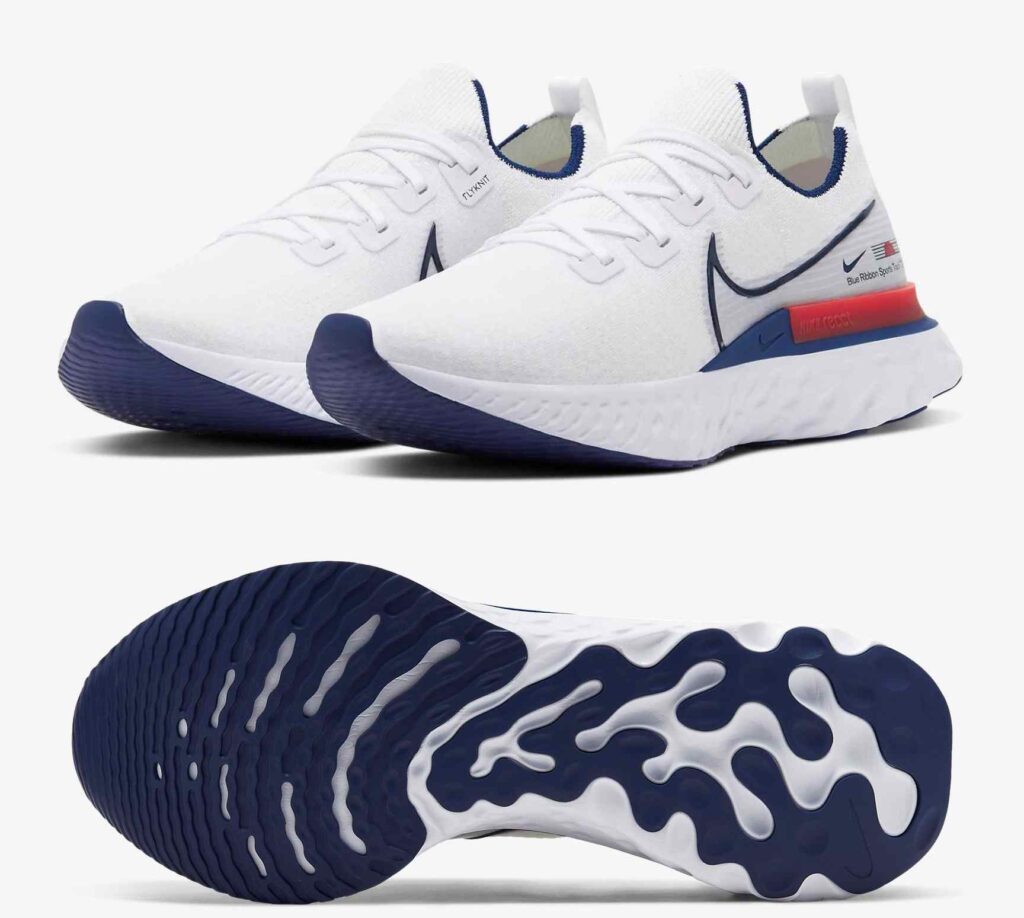 Specification and Product Description:
Weight: Approx 291g (M size 10)
33mm Heel Height
24mm Forefoot
Neutral Pronation
Knit upper & Rubber sole
Flyknit & React Technology
Different Colour
Light Weight Flyknit Fabric For Speed And Support
The new Nike React Infinity Run Flyknit is one of the best performing Nike running shoes. They feel light, comfortable, stable and fast during running. The upper part of this shoe is made with FlyKnit fabric which, in addition to being resistant, offers elasticity and support. Its heel is made to increase the feeling of security and firmness in the tread.
Low Height Neck
It has an anatomical neck with low height to increase comfort and fit. This Nike shoe offers the react cushioning system, which is one of Nike's highest-rated systems due to its extreme tread comfort. It has rubber sole which wear-resistant and offers excellent traction thanks to its lower tread pattern.
Flexible And Durable
The main innovations come in the heel area. In this area, they have reduced the size of the PVC piece. So, the main advantage of this shoe is its comfort. The react midsole, in large part, are very flexible and durable. The sole has a grip on the heel and foot and makes it very stable and flexible while running.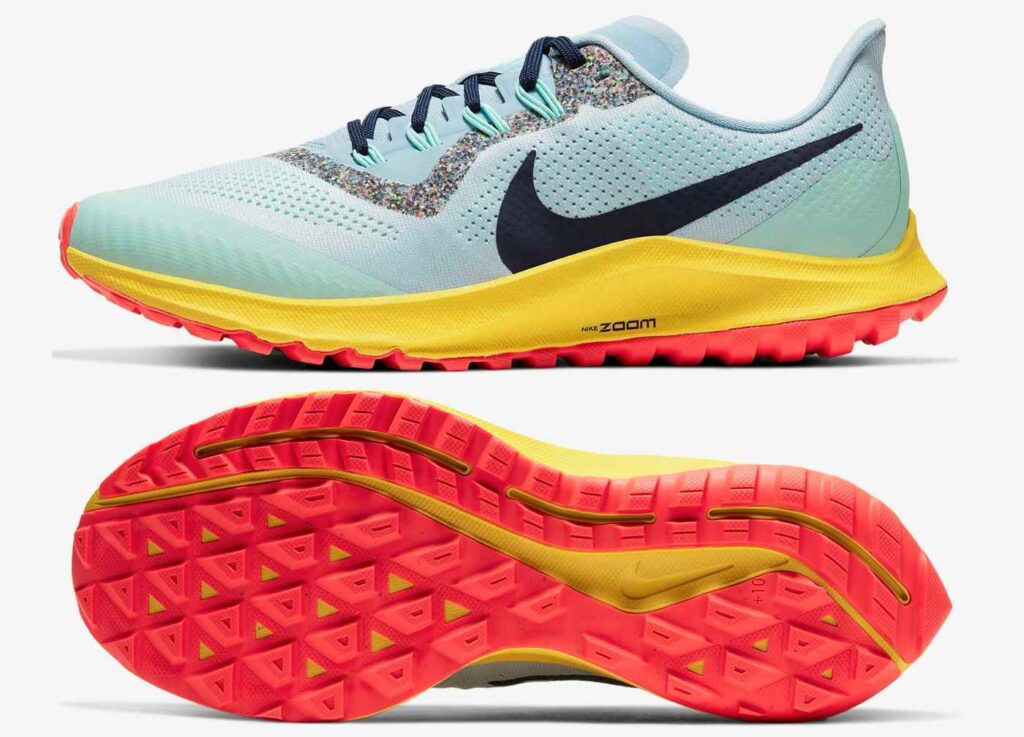 Specification and Product Description:
Weight: Approx 291g (M size 9)
23.5mm Heel Height
13.5mm Forefoot
10 mm Drop
Neutral Pronation
Mesh upper & Rubber sole
Flyknit & Zoom air Technology
Different Colours

Solid And Reliable
The Nike Air Zoom Pegasus 36 Trail is a solid and reliable shoe for daily training and competitions. They are very versatile, which is why they are suitable for both short and long mileage races. The upper part of these Nike Pegasus 36 shoes is made of breathable mesh. As well as, this textile mesh has an elastic and seamless configuration, very similar to the material of the garments. The properties of this mesh allow the shoe to adapt to the shape of the foot, giving it a comfortable and secure fit. Also, it has holes to keep the foot cool and dry during exercise.
Protection From Foot Irritation
The padded tongue has flat edges that cut the contour of the footbridge. Certainly, this will protect the foot from foot irritation in the possible contact of the foot with the laces of the sports shoes. It also has Zoom Air which is a kind of "airbag". This bubble-like technology is also found throughout the entire shoe and helps improve the reactivity and dynamism of the platform. The air-filled container is neither stiff nor heavy.
High Traction Compound – Duralon
The forefoot area of ​​the outsole of the Nike Air Zoom Pegasus 36 is made by Duralon, high traction and cushioning rubber compound. In addition, the angled lugs increase the grip-ability of the shoe with the contact surface, providing very precise control. Also, in the heel part of the outer pad, we find BRS 1000, which is a carbon rubber that protects that area from impact and superficial abrasion.
Buying Guide: How To Buy The Best Running Shoes?
Running is a classic sport but remains one of the most popular. Therefore, it's an easy and effective way to stay in shape if you have the right equipment. In addition to the risk of injury, running shoes affect your back, knees or ankles. But it can seem difficult to navigate among the many different models on the market. The first thing before buying any running shoe is to consider your running type.
These are the following aspects of this guide that will help you to choose the best running shoes:
The Terrain
To choose the type of shoes that we need to use, we must know the terrain where we are going to run. There are many types of terrain such as concrete, asphalt, dirt, or mountainous. For this reason, we can find specific footwear for each surface in the various specialized stores. Those who train regularly on cement or asphalt should opt for soft cushioning models road running shoes.
If you practice trail running, then you should opt for special sports shoes for this type of surface, which usually have a thicker upper sole and are prepared for impact with stones and rocks. It is important to keep in mind for the selection of the shoes that on some occasions we must run on muddy or puddled terrain and we need to protect our feet from unforeseen events such as rain or difficult to access terrain that may contain dangerous objects.
Type Of Running
To define our needs, we must keep in mind what is the primary objective of running in our lives. If we want to run marathons or long-distance running, then we should look for shoes that offer comfort and enough cushioning to avoid injury. If we only go for a walk and jogging once in a while, it won't be necessary to invest in a very expensive shoe. We must know if we need a shoe to train or if on the contrary, we should opt for premium models for competition.
Size
You must select shoes that are larger than our feet. If it is possible half a number more than what we normally use because when we run our foot dilates and widens, and this causes discomfort or can even cause injuries such as blisters or more serious injuries.
Quality And Price
It is important to keep in mind that you must select quality shoes and not save on the expense. The more expensive the running shoes are the better in general. Because the quality of the materials are better. For example: Karrimor vs Nike or Hoka.
The Colour
If you're going to run on your own, think about the obstacles and weather conditions. So, for this type of circumstance, shoes with fluorescent colours that can be observed at great distances have been adapted. By choosing one of these models, you can enjoy the advantage that it can locate you from any angle, thus preventing vehicle accidents.
Another factor that you can keep in mind is the risk of the darkness of the night. For this reason, choosing models with fluorescent shades either on the entire shoe or on details such as sparks or stripes is of great importance when we go out for a run.
Common Types Of Running Shoes:
There are many types of running shoes which are suitable for different terrain, but these are the 3 most common types of running shoes:
1. Road running shoes
These are running shoes for the Road, or Indoor which are used for running on flat surfaces such as road surfaces, courts, and indoor rubber flooring. There aren't many buttons on the sole for rough terrain. Therefore, road running shoes tend to be thick, lightweight, comfortable to wear and support shock. It will increase the stability of the feet when running on a hard surface.
2. Trail running shoes
Trail running shoes are perfect for running on rough surfaces or areas with a texture suitable for wading on rocky, muddy soil. There are a few buttons to prevent slipperiness when running on grass or soil. Also, it focuses on gripping the rough road surface, including foot protection. Similarly, it has a strong shoe structure, and the sole of this shoe are quite soft. The materials of both the outside and the inside will protect the feet from kicks, stone and roots. As well as, the materials used are tougher, more durable than ordinary road running shoes.
3. All terrain running shoes
The last type of running shoes is the All-Terrain. This type is a combination of Light Trail and Road / Indoor which can be used to run on both smooth and rough ground. Most of them will have hybrid running shoes properties, suitable for both smooth and rough running. Such as INOV8 Roclite G275 Trail Running Shoes.
Frequently Asked Questions:
How to lace up your running shoes?
It is essential to lace up your running shoes to optimize the sensations properly. Yes! You may not know it, but there are different ways to put the lace through the eyelets of the shoe. Everything will depend on your feet types and running surface i.e. road or trail.
For example: if you have wide feet, we advise you to cross your laces. Between the 2nd and 3rd holes, keep the lace on the same side. By this method, it has more space for your foot and that it can breathe better. On the other hand, in case you have narrow feet, the best would be to form a lock for your lace. To do this, start by crossing the first time, then, from the 2nd to the 3rd hole, keep it on the same side. Then cross your laces by passing them through the lock previously formed to hold your foot more firmly.
How to clean your running shoes?
Running shoes get dirty easily, especially if you run on rough terrain often. To give them a little freshness, they must be cleaned properly. Here are some simple and effective tips.
Start by removing the laces and insoles.
Remove a hanging mud, dirt and debris with a paper towel or using soft brush.
Fill a bucket or basin with hot water and add one to two teaspoons of mild detergent.
Use a soft brush to clean the outer and inner soles.
Clean the upper of your shoes with sponge.
Be aware that for suede, nubuck and leather models, it will be necessary to have specific products.
As for the laces, wash them with soap and a brush, under running water.
Once you have finished cleaning all parts of the shoes, absorb the moisture with paper towels or dry cotton clothes.
Avoid drying them in direct sunlight; otherwise, they will be damaged.
Finally, you can sprinkle the inside of the shoes with baking soda to absorb odours and any residual moisture before putting them away.
What is the most comfortable Nike running shoe?
Short answer is Nike React Infinity Run Flyknit. Because it provides the firmness with Flyknit fabric, has low height neck and very flexible.
What are the most popular Nike trainers?
It is Nike Air Zoom Pegasus 37. This is Nike's latest running shoes released in June 2020 in UK. The re-construction of Zoom Air tech for this shoe, for better rebound energy return; has made it so popular and trending very high in UK.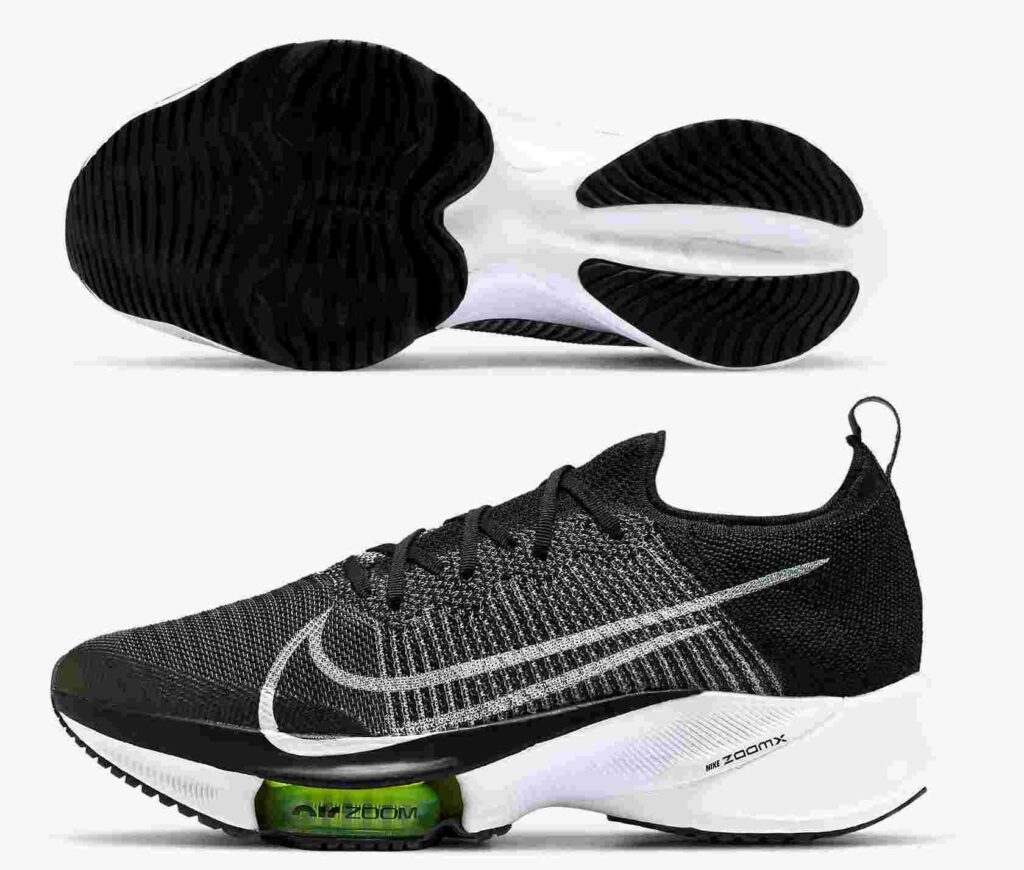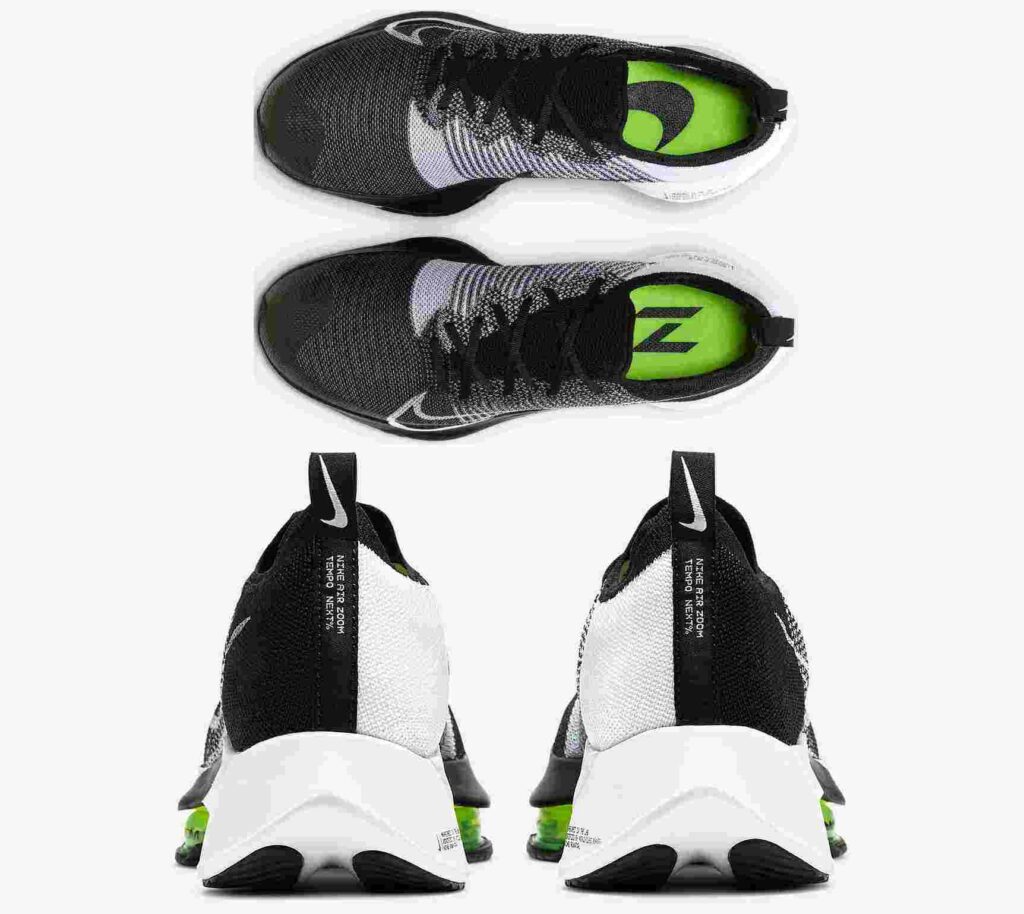 The Nike Air Zoom Tempo Next% mixes durability with a design that helps push you towards your personal best. The result is a shoe built like a racer, but made for your everyday training routine.
A DURABLE TRAINER, MADE TO BREAK RECORDS.
The Nike Air Zoom Tempo Next% mixes durability with a design that helps push you towards your personal best. The result is a shoe built like a racer, but made for your everyday training routine.
Zoom Forward
Nike ZoomX foam in the footbed delivers energy return as you move forward. A visible Zoom Air unit provides responsive cushioning, giving you an additional spring with your stride.
Responsive Heel
Nike React technology at the heel is lightweight and durable. It helps keep your foot cushioned and secure with every step.
Runner-Informed Traction
The rubber outsole features a design created using data from hundreds of runners. That information helps place traction where your foot needs it most, giving you grip on multiple surfaces.
Secure and Fast
The look of fast comes alive with a translucent, high-tenacity Flyknit and synthetic upper. Its secure feel helps contain your foot with every step.
More Benefits
Cushioned heel pods add comfort.
Asymmetrical lacing helps keep your foot secure and in place.
Heel loop for easy on and off.
Summary
As we all know that Nike has dominated the running shoes industries with new technologies by far, and has become the favourite brand for many world class runners. I hope you like this article about the best Nike running shoes. If so, then please share with those friends who are looking for some guidance and advice for buying running shoes.
Happy Running!