If you're looking for womens wide running shoes you've come to the right place. More brands are now offering extensive options for wide feet shoes. New Balance, Brooks and Hoka, in particular offer wide sizes in most of their running shoes. Here at Bestmarathontrainingplan, we've reviewed the best ­o­n the market.
What is a wide foot size?
A wide foot size is a shoe with a larger toe and forefoot width. Designed to accommodate people with wider feet. Usually the length of shoe stays the same.
You'll find that different countries and brands have their own guidelines for wide foot sizes. However, as a general guide here is what to look for.
In the UK:
Standard fitting is D
Wide fitting is E or EE
Extra-wide fitting is 4E to 6E
Ultra-wide fitting is 6E to 8E
In the US there are nine widths available ranging from AAA (narrowest) to EEE (widest)
Standard fitting is B/M
Wide fitting is D
Extra-wide fitting is E
Extra-extra wide fitting is EE and so on.
If you're on a website that doesn't specify the shoe width measurement, it's usually safe to assume it's a standard fitting.
How can you tell if you have wide foot size?
There's a simple test you can take to find out if you have a wide foot size. Measure the widest part of your feet using a tape measure. Match this measurement with your foot size and you have the answer.
There are also signs that show you need wide fitting shoes:
Discomfort & Swelling
Developing Bunions
Blisters that are caused by chafing
Don't ignore these as they're a sign that you need to make an adjustment. Your feet will thank you for it trust me!
What Are The Best Womens Wide Running Shoes In UK?
Now that you know the difference in wide foot sizes. It's time to find your perfect shoe. We've reviewed 10 wide-running shoes for women. Each review takes into account the pros and cons. We hope you find it useful.
Here's our top 10: (in no particular order)
Hoka Challenger ATR 5 Women's Trail Running Shoes (Wide Fit)
Hoka Clifton 6 Women's Running Shoes (Wide Fit)
Nike Air Zoom Vomero 14 Women's Running Shoes (Wide Fit)
New Balance 880V8 Women's Running Shoes (D Width)
Asics GT-2000 Women's Running Shoes (2A Width)
Brooks Addiction 13 Women's Running Shoes (2A Width)
New Balance Fresh Foam 880V10 Women's Running Shoes (D Width)
Brooks Adrenaline GTS 19 Women's Running Shoes (D Width)
Salomon Speedcross 5 Women's Running Shoes (D Width)

Specification and Product Description:
Trail Running
Weight: 218g
Heel to Toe Drop: 5mm
Shoe Width: D
Breathable Dual-Layered Mesh Upper
Moisture Management
EVA Midsole
Podular Outsole
2 Colours Available
The Hoka Challenger ATR 5 is a trail running shoe designed for ultimate comfort and high performance. The shoe features dual-layered breathable mesh to leave your feet feeling cool and dry during long distances or tough inclines.
It has an EVA midsole which provides a light-weight cushioned support to protect your feet from the impact but also allows you to run for longer in comfort. Another great feature is the Podular insole which provides another layer of comfort, natural motion and stability to your running. Run in any terrain and weather condition with confidence.
Pros:
Perfect grip and stability
Ultimate Comfort
Breathable Mesh – sweat-free avoid blisters and friction
Superb Grip and Traction
Cons:
Hoka Clifton 6 has better customer reviews

Specification and Product Description:
Open Engineered Mesh Upper
Moulded Ortholite Sockliner
Weight: 216 g
Drop: 5mm
Open Engineered Mesh Upper
Early Stage Meta-Rocker
Full EVA Midsole
Moderate Heel Bevel
Hi-Abrasion Rubber Zones
The Hoka Clifton 6 is a genius running shoe. It's had outstanding feedback and reviews because of its incredible cushioning and lightweight feel. Allowing you to run at your best ability every time.
It has an Engineered Upper Mesh panel which allows a constant breeze of air into the shoe. Your feet stay fresh during long runs, and high-intensity workouts.
Another great feature is the Full EVA Midsole, and Grippy Outsole which provides grip and support on all terrains. Reach your full potential with this trusty, lightweight super comfortable running shoe.
Pros:
Lightweight
Sweat Free, Happy Feet
Grippy Outsole – Perfect Grip and Stability
EVA midsole – For Ultimate Comfort
Great Customer Reviews
Cons:

Specification and Product Description:
Weight:
Shoe Width: D
Drop: 10mm
Heel Height: 22m
Durable Foam Outsole
Breathable Mesh
Bevelled Heel
Full-Length Zoom Air Unit
Durable Rubber Heel
The Nike Air Zoom Vomero 14 Women's Running Shoes is best known for its next-level cushioning power. It also has a sleek design providing not only comfort but for style too.
The Breathable Mesh Upper creates airflow allowing your feet to breathe, avoiding sweat friction. Another impressive feature is the Full-Length Zoom Air Unit Midsole. It's 5 mm cushioning springs back fast so that you can run faster as well as providing protection from impact.
Pros:
NEW React Technology – Delivers lightweight, durable and extremely responsive cushioning.
NEW Foam Tongue – Protects against lace pressure
Breathable
Sleek Design
Cons:
Only available in one colour (black)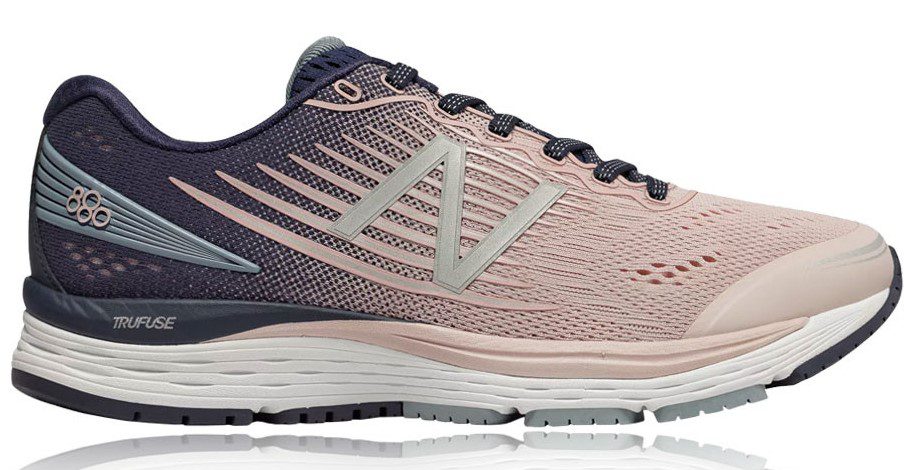 Specification and Product Description:
Weight: 360g
Drop: 10mm
Width: D Fit
NDurance on the Heel and Toe
Blown Rubber Outsole
TRUFUSE Technology
Engineered Mesh Upper
New Balance is masters at designing womens wide running shoes that can go the distance. This New Balance 880V8 shoe makes for a perfect running partner. It's designed with cushioning and durability at the forefront. Making long-distance runs an exhilarating experience.
The Engineered Mesh creates a healthy environment for your feet. While the TRUFUSE cushioning in the midsole combines soft ACTEVA and firm ABZORB foam. Guaranteed to supply a dreamy balance of cushioning and support.
Pros:
Breathable
Durable
TRUfuse Technology
Blown Rubber Outsole
Lightweight
Good value for money
Cons:
No negative reviews.

Specification and Product Description:
Shoe Width: 2A
Engineered Mesh Upper
FlightFoam Midsole
AHAR Outsole
Wider Forefoot
Padded Heel
Seamless Construction
Rearfoot and Forefoot Gel Cushioning
Since 1990 Asics has been one of the leading running shoe brands. This ASICS GT-2000 8 Women's Running Shoes is a perfect example. Ideal for those looking to run to their best ability. Great for beginners and experienced. An all-rounder that will help you rack up the miles and won't let you down.
FlyteFoam
FlyteFoam is the next generation of cushioning technology for Asics. The gel cushioning system is embedded into the midsole, rearfoot and forefoot. This supports your feet when you land, but also prevents and absorbs shock at heel-strike and toe-off. Preventing you from any wear and tear which is important as you build up your miles.
The AHAR (ASICS High Abrasion Resistant rubber) outsole is placed in high-stress areas to supply superb grip without compromising the shoe's stability.
Pros:
Lightweight and shock absorption
Breathable
Gel cushioned
Superb grip
Cons:
It's designed with wider forefoot however no wider sizes than 2A
Only available in one colour

Specification and Product Description:
Weight: 334.5g
Midsole drop: 12mm
Arch: Flat/Medium
Synthetic Mesh Upper
DNA Midsole
Durable Rubber Outsole
2E Width
The Brooks Ariel '18 Women's Running Shoe provides the right amount of cushion, support and overall comfort. The DNA midsole provides 30% more cushioning than a standard EVA midsole. While the engineered mesh and new and improved fit provide space for your feet to breathe comfortably.
Pros:
Breathable
Sweat-free
Toe Protection
Shock Absorbing
Cushioned
Spacious Forefoot
Great Value for Money
Cons:
Only available in one colour

Specification and Product Description:
Weight: 340.2g
Midsole drop: 12mm
Width: 2A
Arch: Flat/Medium
Mesh Upper
DNA Midsole
BioMoGo – 50x Faster Than Traditional EVA midsole
Running Progressive Diagonal Rollbar
Segmented Crash Pad
The Brooks Addiction 13 Women's running shoe offers controlled support, and adaptive cushioning. An ideal shoe for road running.
The Brooks DNA Midsole is genius. It adapts to your weight, pace and the terrain to provide you with the right cushioning mile by mile. The Extended Progressive Diagonal Rollbar (PDRB) provides control and stability by guiding your body into its natural motion path. And, it has a generous fit catered to flat or wider feet.
Pros:
Great value for money
Extreme stability and support
Breathable
Generous fit suitable for 'flat feet'
Cons:
Only available in one colour
Low size stock availability

Specification and Product Description:
10 mm drop
Type: Cushioned/Neutral
Shoe Width: D
Moisture Management
Fresh Foam Midsole
Molded Footbed Increases Underfoot Cushioning
HypoSkin Upper which creates a second-skin feel
The New Balance Fresh Foam 880V10 Womens wide feet running shoes is the result of the most innovative cushioning technology. The Hyposkin Upper is one of the most impressive features. It's so lightweight it feels like a second skin and adapts with you as you run.
The Fresh-Foamed Midsole provides an ultra-cushioned underfoot for a speedy, high performance run every time.
Pros:
Lightweight
Breathable
Latest cushioning technology
Breezy and friction-free
Cons:
Wide size is only available in Purple

Specification and Product Description:
Weight: 272.2g
Drop: 12mm
Width: D
Breathable Mesh
Streamlined Design
BioMoGo DNA Midsole
Crash Pad
GuideRails Holistic Support System
The Adrenaline FTS 19 is Brooks new and improved 'go-to' shoe. Its impressive new feature is the Holistic GuideRails support system and new DNA LOFT crash pad.
The Holistic GuideRails focuses on the knees, the most injury-prone part of our body. This technology assists your body in finding its natural path and keeps excess movements in your joints to a minimum. Genius!
Finally, the DNA LOFT crash pad works with the DNA midsole to provide just the right amount of comfort underfoot. It also supports any high-impact landing avoiding injury.
Pros:
Great value for money
Support and Stability
Injury prevention
Ultimate comfort
Cons:
No negative feedback received yet.

Specification and Product Description:
Trail Running
Welded Mesh Uppers
Heel Unit
Quick Lace System
EnergyCell+
Contagrip Outsole
Width D
Salomon is a trusted Trail-Running brand. This is their new and improved running shoe. It now has more space and improved geometry, delivering better push-off grip in all weather conditions. The Outsole forms a solid grip between your shoe and the terrain for ultimate stability.
Energy Cell + is an impressive midsole technology that offers outstanding cushioning and motion control. It works by absorbing shocks when the foot strikes the ground and using it to move you forward in the next step.
Salomon Speedcross 5 has built a strong reputation by creating shoes that are designed for the long-haul. They're tried and tested, making small tweaks to each new model to continuously innovate their design. They know what they're doing when it comes to trail running!
Pros:
Lightweight
Great value for money
OrthoLite Sockliner provides incredible underfoot cushioning
EnergyCell + is the latest technology in delivering outstanding durability
Salomon is a reputable trail-running brand
Super Sleek look
Cons:
Frequently Asked Questions (FAQs) about womens wide feet!
Are wide feet common?
Yes! More common than you'd think. The cause is usually genetics, weight gain or ageing. It can also be the result of wearing shoes that are too small.
Are wide feet unattractive?
No. It's nature and a common issue that affects a lot of people. There's plenty of shoes on the market in wide sizes.
Can you fix wide feet?
If your feet are causing extreme discomfort you can have corrective cosmetic foot surgery.
Do feet get bigger with weight gain?
It's possible. When you gain weight, the excess weight can force your feet to grow, and become flatter. Similarly, to what happens during pregnancy.
Summary
There is a great range of womens wide running shoes out there, covering all budgets. As a runner myself I know the importance of finding a shoe that fits perfectly. My feet still haven't forgiven me for wearing shoes that looked good but didn't fit well.
Before buying a pair of running shoe, always take into consideration your width size, and the type of terrain you will be running on. And, remember to check each brands size guide as they can differ slightly. Once you find a shoe that fits perfectly, you'll never look back. I hope you enjoyed the article. Please feel free to share it with your friends or leave a feedback in the comments below.
Check out our other blog for best running shoes for heavy runners.
Happy Running!