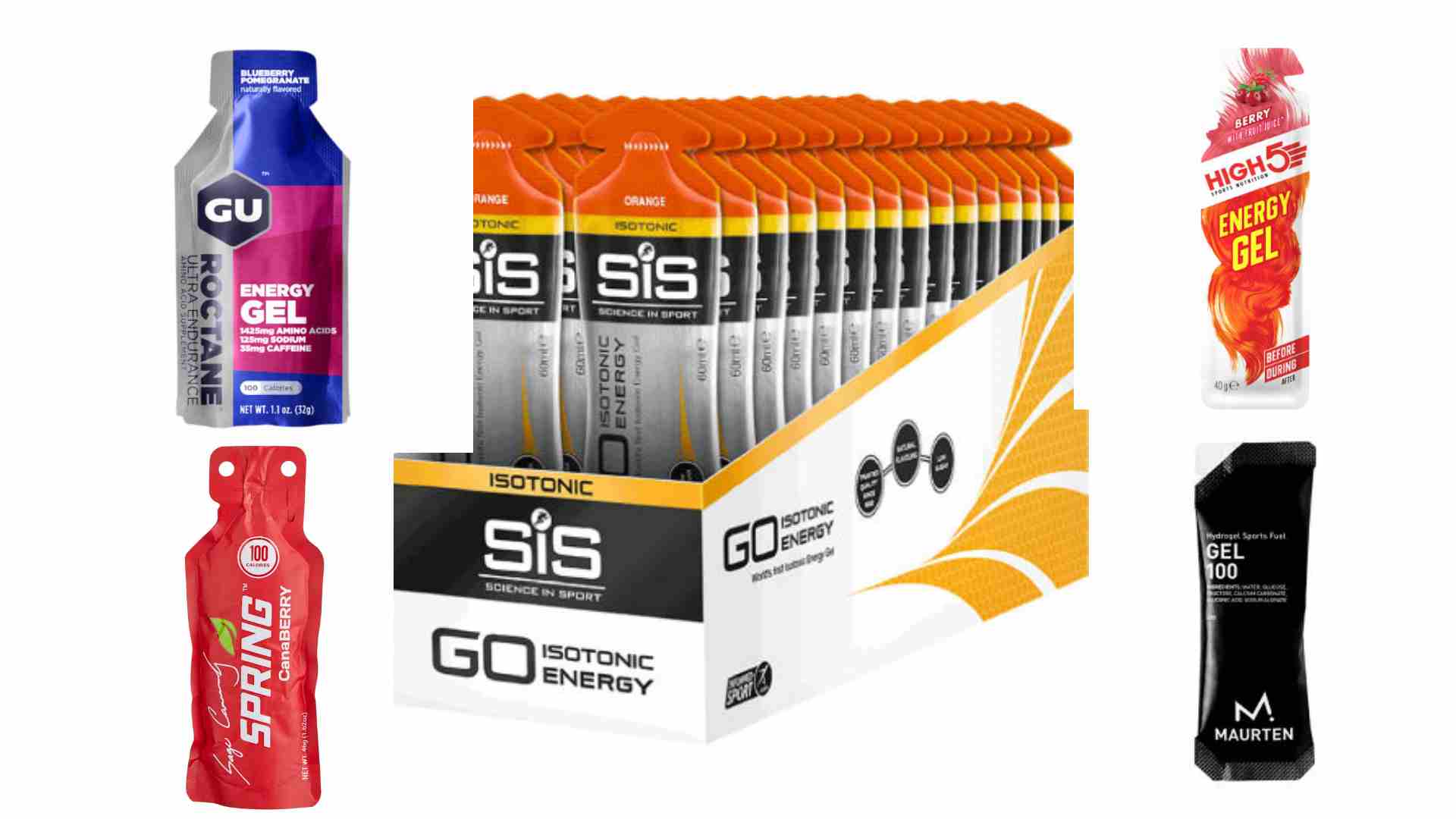 5 Best Energy Gels For Long Distance Running And Marathon Review 2020
During marathons and other forms of extensive high energy exercises, our glycogen stores are drained. Without the proper sustenance to power us through such activities, we will grow quickly weary and exhausted. Fortunately, there's a solution. Within this article, we will explore some of the best energy gels for long distance running.
What are energy gels?
Energy gels are supplements to keep marathoners and long distance runners fuelled throughout their journeys. The gel itself is comprised of mostly simple sugars, either glucose or fructose. Some even have both. These simple sugars are our bodies favourite source of energy whilst exercising. It is easy to obsorbe into our bloodstream as fuel.
Some gels also include electrolytes in the mix. Electrolytes are key for marathon runners, helping to replace all the nutrients we sweat out while working hard. Electrolytes are substances such as sodium, potassium, calcium and magnesium, which we lose a lot of in our sweat – particularly sodium. We need to replace these things to ensure our running is at its highest potential.
What's more is, some energy gels also include caffeine. This provides runners with an often much needed boost of energy, perfect for the final stretch of a run. Overall, energy gels are a perfect way to stay energised on a run, and to keep going all the way to the end.
How does energy gel work?
The energy gel offers a concentrated source of energy which provides a high boost of nutrients very quickly. The gels themselves are based on maltodextrin, which directly injects your bloodstream with glucose.
It's important, however, to ensure that energy gels are always consumed with water. The concentrated nature of these gels is comparable to an undiluted energy drink. Energy gels need water to be absorbed correctly, or else you risk being dehydrated. It helps to flow the nutrients into the bloodstream.
Are energy gels safe?
Energy gels are a safe way of revitalising one's self supposing they are used correctly. This all depends on the amount that a runner consumes. Roughly, an athlete will require one gram of carbohydrate per hologram of bodyweight, per hour. This is generally around one or two energy gels each hour.
How to ensure safe consumption
However, it's also important to note that there is a limit to the amount of carbohydrates a person can absorb. If you take too much energy gel, the nutrients won't be absorbed and the gel will just be in your stomach, which is terrible for a runner.
Also, it's imperative to consume energy gels along with a healthy amount of water. Absorbing too much carbohydrate without water, alongside strenuous exercise will cause dehydration. This is due to the gels use of water from inside your body to be absorbed. Failure to do this is one of the few ways in which energy gels hold the potential to be dangerous.
Is energy gel good for runners?
Energy gel is great for runners as it contains all the necessary nutrients to keep you going through the finish line. While running our body relies on two primary sources of fuel. Those being fat and carbohydrates. Our bodies generally contain enough fat for us to partake in a marathon run, as fat is a resource broken down slowly over time.
For more immediate energy for strain, we rely on carbohydrates. The faster you run, the more carbohydrates you use up. As our bodies aren't great at storing carbohydrates – we have limited amount of space within each muscle – energy gels are the perfect solution to quickly top up our supplies during the inensive workout or long distance running. We are typically only able to store about 2 hours' worth of carbohydrates within our bodies. So, if we wanted to run anything longer than 2 hours, we would be in trouble.
Thus, energy gels are great for runners. They are a perfect solution for marathoners who are struggling to make the distance. It ensures that you have all the nutrients required to make the distance safely, as well as, prevents over exertion and exhaustion.
When should you run with gels?
Energy gels are great for runners and long distance running, who aim to achieve long distance feats. However, the perfect time to take gels depends on the person. Every absorbs carbohydrates at different rates, and so it can be important to practice running with gels before taking them on a big marathon day.
When exercising, our bodies pump blood towards the most active muscles, which can often leave your stomach with less blood than would be typical. This can sometimes make consumption of energy gels difficult. For this reason, it's imperative to practice beforehand, to test the waters and see how your stomach is able to handle consumption of nutrients during strenuous exercise.
Another important reason to test energy gels before marathon is to see how fast your body can absorb them. As a basic rule of thumb, it's important to eat the gels before you feel yourself crashing. Whether this is 3 minutes before or 15 minutes depends on the person.
Essentially, we should run with gels when wishing to tackle a long-distance run. By taking energy gels correctly, and at the right points in a run, we will have the right sustenance to make the distance.
Energy gel with or without caffeine?
Caffeine is great for energy, and it consistently provides millions, if not billions of people a much needed boost every morning. Following this logic, it would only make sense that energy gels with caffeine would be better, right? Well, they are, but this doesn't mean that they caffeine energy gels should entirely replace regular energy gels.
Caffeine aids the absorption of carbohydrates, making energy more easily consumable and accessible for use. This means that you will have more fuel to keep you running throughout a short period of time. A perfect boost to finish a race.
How does caffeine work?
However, the way that caffeine works is different from the way carbohydrates work, making reliance on caffeine energy gels a slippery slope. Caffeine affects the central nervous system, having certain effects on our body. It's not unusual to experience a crash after taking too much caffeine. Some people even find themselves jittery and uncomfortable.
Caffeine's effect on our central nervous system and heart can be dangerous when paired with the strain of intense exercise, if we consume too much caffeine. With the heart working overdrive to pump blood all throughout the body, the last thing it needs is an abundance of caffeine telling it to work harder.
Despite this, caffeine energy gels are a great way to snag an energy boost. It's simply crucial that we understand the effect it has on us, and use this knowledge to ensure we consume safely. The safe way being, not to rely on caffeine gels and rather swap them out for regular energy gels, more often than not.
Here are the Top 5 Energy Gels for long distance running
GU Energy Gels
GU energy gels are known for their high carbohydrate quantity, as well as their unique flavours. Therefore, it is quite famous among the long distance runners. With flavours such as salted caramel, salted watermelon, cucumber mint and maple bacon, the GU energy gel brand was sure to turn heads. They're the type of flavours you have to try, just once.
The gels use the ratio of 2:1, maltodextrin to fructose alongside 20mg of caffeine and over 100mg of sodium, which is a healthy serving of it all to keep you fuelled and energized mentally and physically. Overall this is a great energy gel due to its unique flavours and large doses of sustenance, which also make it a more cost-effective option.
SIS Go Energy And Electrolyte Gel
SIS Go, or Science in Sport GO energy + electrolyte gel is one of the leading energy gels due to the large array of key minerals included. The SIS gels focus on electrolytes, aiming to ensure that any importance minerals such as sodium, potassium or magnesium that we lose while sweating are swiftly replaced, even during the most intensive exercise sessions.
These energy gels come in two flavours, those being raspberry, and lemon and lime. The simple, great tasting nature of these flavours mean that they are kind on your stomach, and are digested easily even in those late stages of a race.
High5 Energy Gel
The High5 energy gels are slightly different from the GU Energy gels. As you already know, the GU energy gels are based on a 2:1 ratio of maltodextrin to fructose. Unlike those, the High5 energy gels only contain glucose, and no fructose. What this means is that they absorb slightly slower and over a longer period of time than other gels containing fructose.
This line of gels come in a variety of fruity flavours, such as banana, apple, citrus, summer fruits and orange. These energy gels are quiet light and watery, ensuring easy consumption and not too much weight for your stomach. Essentially, these gels are a much lighter option compared to others available on the market, yet have a longer lasting effect.
Maurten Energy Gel
The Maurten energy gels have made some revolutionary advancements within the energy gel market, in the sense that they allow the user to take 4 gels each hour, safely. With a glucose to fructose ratio of 0.8:1, it's truly unlike any other gel out there.
The gel itself it touted as some sort of hydrogel, meaning it is extremely easy to swallow and digest. Each gel holds 100 calories and 25g carbohydrates. The hydrogel technology allows consumption so easy, that you can take them without any gastric energy, in other words, 'wasted energy.' This means that all the nutrients will be easily digested with the body, and for the active muscles.
In its essence, this gel packs you with the maximum amount of carbohydrates possible, to ensure that you can keep going steady. However, this does mean that you have to consistently keep eating them or risk seeing a reduction in performance. Furthermore, these gels are quite pricey compared to others. This energy gels are not only for long distance running, Perhaps they are a great choice for the more important occasions, and during simple training sessions a more standard energy gel would go down better.
Spring Energy Gels UK
The spring energy gels are unique, for they are made from only natural ingredients. You won't find any artificial components in these ones. The spring energy only uses real ingredients. Therefore, they are supposedly better for consumption, in terms of easy absorption and reduced gut irritation.
The gels have a soft texture, for extremely easy consumption. They come in a range of fruity textures, and taste great. Overall, these gels are actually a great alternative away from traditional, artificial gels.
Best Energy Gel for marathon?
Now, let's go over which one of the aforementioned energy gels is the best for running, and marathon. While the Maurten energy gels are great for filling you up with as much nutrients as possible, having to consistently eat the gels over long periods of time can be quite annoying. If you're running a long marathon, the last thing you would want is to be eating four gels every single hour.
All the other gels are great, depending on which niche you fit into. If your stomach tends to struggle during marathon, I would recommend the spring energy gels for their excellent natural makeup. If you tend to sweat a lot, the SIS energy gels are a must buy due to their powerful electrolyte composition. Also, if you have a fructose allergy, then there is no other choice than the High5.
Overall, my favourite, is the GU energy gels, for they provide a big hit of energy in times of need. The massive amount of carbohydrates in these gels is perfect for me, who has a high metabolism and sometimes tends to burn through carbohydrates at unprecedented rates.
Where to buy energy gels?
Many of these best energy gels for running are available online or in store at an abundance of running and cycling stores. You can find them online at amazon, wiggle.co.uk, mourten.com and hifive.co.uk. These gels are essentially available everywhere you may usually find yourself shopping for athletics gear.
Summary
To conclude, energy gels are a great way to replace lost fuel while exercising. There are some with caffeine, and others that focus on electrolytes, it all depends on the user. Remember to always consume safely with water, and to not exceed limits. I'm sure that on this list of best energy gels for running, you'll be able to find the perfect option.